Bookmobile - Rolling for Reading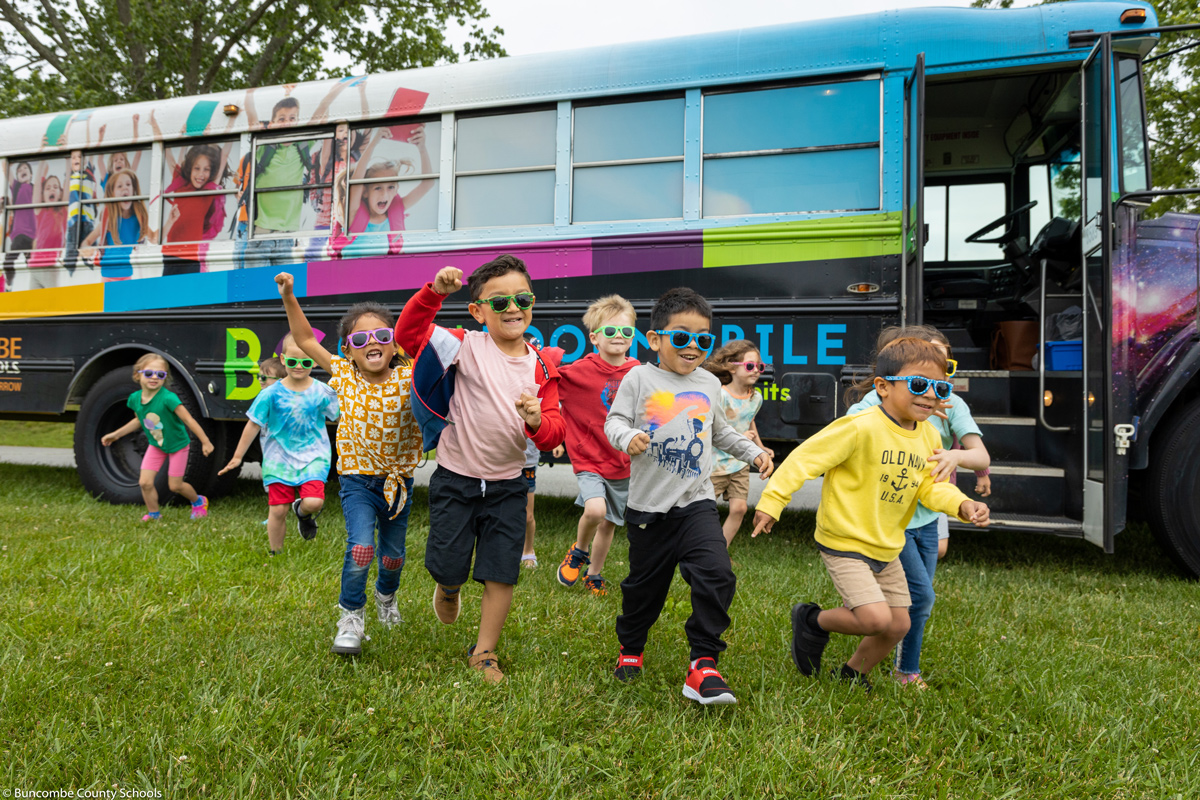 What is the Bookmobile?
The BCS Bookmobile is a mobile library and more. It is an accessible tool for our Pre-K Early Learning Centers, BCS students, and the families of Buncombe County to have literacy materials throughout the year. We work hard to have the most updated inventory on board to help with the literacy growth of the students of Buncombe County.
We hope to see you at one of our sites throughout the year!
How can families participate?
Families can participate by visiting one of our community sites labeled with an asterisk. Weekly attendance will give your child access to new literacy each week that can assist in their growth and love for reading. There is no registration required except that you and your child live in the Buncombe County School District. Please take advantage of this opportunity for your child and their development in reading.
Here are some awesome resources you can use at home:
Ready Rosie
Ready Rosie is an evidence-informed and research-based family engagement and early learning resource.
Starfall
Activities are research-based and align with Individual and Common Core State Standards in English language arts and mathematics.
Storyline Online
Storyline Online streams videos featuring celebrated actors reading children's books alongside creatively produced illustrations.
We follow Buncombe County Schools' schedule (Bookmobile does NOT run on early dismissal days, teacher work days, delayed start days or when Buncombe County Schools are closed.)
*Locations with an asterisk are open to the community
Monday
8:30 am - Barnardsville Elementary Head Start
9:30 am - North Buncombe High Preschool
10:15 am - Weaverville Primary Head Start
11:00 am - Childcare Network / North
1:30 pm - Leicester Community Center *
2:15 pm - All God's Children ELC
3:15 pm - GiGi's Place
8:30 am -Eliada Home NC Pre-K
9:15 am - Johnson Elementary Head Start
10:15 am - Erwin High Preschool / 10:30 am Candler Head Start (alternating weeks)
11:15 am - Childcare Network/Enka
1:30 pm - Buncombe County Sports Park*
2:30 pm - Hilltop MHP*
9:00 am - Haw Creek Elementary Head Start / BCS EC Pre-K Class
10:00 am - W.D. Williams Elementary Head Start
10:45 am - Valley Child Development Center
1:30 pm - Lake Tomahawk*
2:00 pm - Creative Village Child Care
3:00 pm - Collins Early Learning Center
8:30 am - Reynolds High Preschool
9:15 am - Oakley Elementary Head Start
10:30 am - Avery's Creek Elementary Head Start
11:15 am - T.C. Roberson High Preschool
1:15 pm - Lake Julian*
2:00 pm - Childcare Network / Arden